So this week im just taking a bit of a break and looking back at 10 weeks of weekly mini me.
I've progressed a lot and learnt a lot from my mistakes. There have been a few dud weeks ( Patrick jane , Obama etc) But overall good progress and thats what its all about. In week 10 I finally started sculpting in wax. I hope to keep doing that more often in the coming weeks.
Here's a quick pictorial rundown of the last 10 weeks
I would really like to thank all the people who have been following my work via my blog / twitter/ facebook. Its helped motivate me to create stuff week after week.
And now……for an untold story from weekly mini me.
Week #3 was the first competition. Nikoleta Here won the sculpture of Walter Bishop.
What no one knew (or rather what i never told anyone ) was that the original sculpture of John Bishop with the work in progress pictures actually got destroyed!! It got burnt in the oven!
The material i use to sculpt (super sculpey) has to be baked in the oven at 275 F / 100 C to become solid. What happened in this occasion was after it was all solid i ended up leaving it in the oven and the next day when my fiancee wanted to use the oven she turned it up to the max without realising there was anything in the oven.
The Result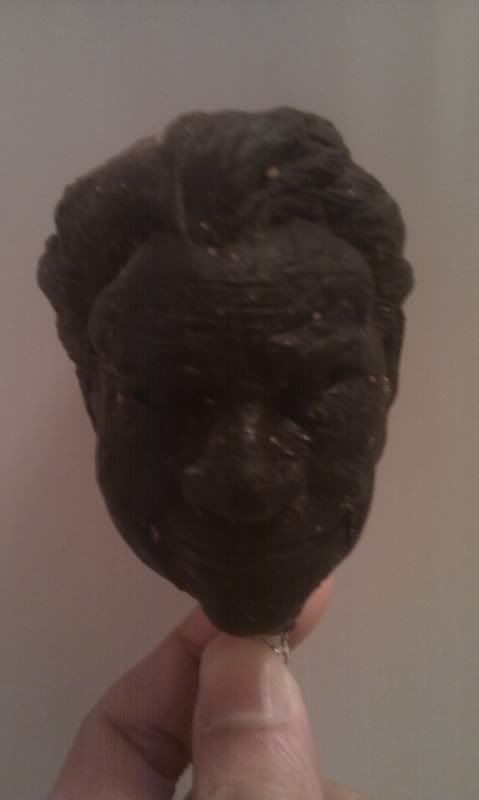 I had to scramble and make an entirely new sculpture that week of Walter Bishop. So all's not lost.
Actually this made me revisit the sculptures. I made it bigger and that prompted the other Fringe sculptures (which are in the process of being painted)
and now for an unannounced bonus!
Its been a while since there has been a competition.
So…how do you like sound of winning a 'one of a kind' bust of Charlie Pace. This won't be made available as part of Lost Collectables and no copies will be made of it. So whoever wins it will win a unique statue.
I haven't come up with any rules for the competition yet but that's whats up for grabs! You all everybody!